WorkSafe App
07 Jun 2022

3 Minutes to read
WorkSafe App
Updated on 07 Jun 2022

3 Minutes to read
---
Share feedback
Thanks for sharing your feedback!
SysAid's Worksafe app provides your employees with a simple way to report on their health statuses and gives management real-time visibility to ensure a safe, secure, and productive workforce.
Currently the app is only available for cloud editions of SysAid, but On Premise users can still manually setup the app's functionality in their account. See the Manual set up section below for more information.
Daily reporting form
The WorkSafe app creates a designated, easy to fill-out form, with a widget in the Self-Service Portal's Service Catalog.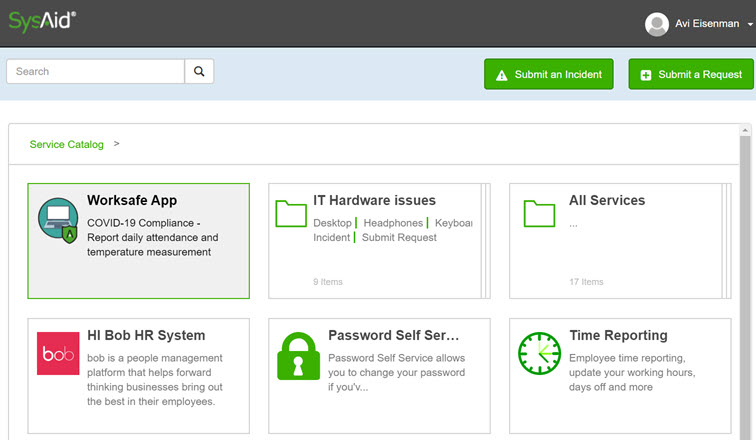 Employees can click the link and enter the relevant fields for their location and health status in less than a minute. The form includes custom categories and all of the reported data can be viewed in a designated Worksafe view in the SR list.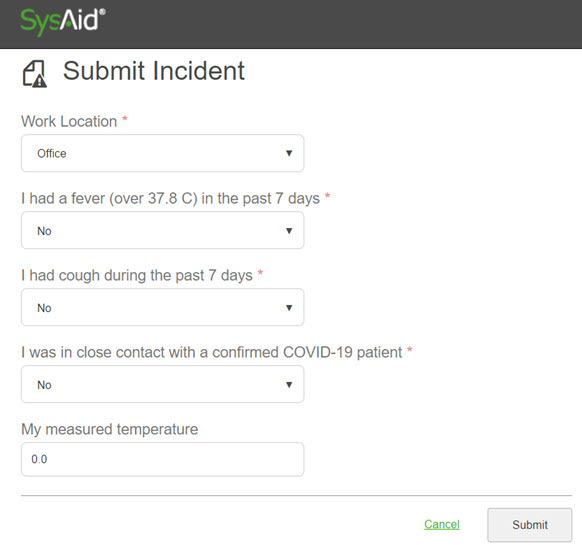 Built-in Report
The COVID-19 daily report displays the data reported by your organization's employees so you can see who submitted the reported their health and location status that day, and the full breakdown of the data across your organization.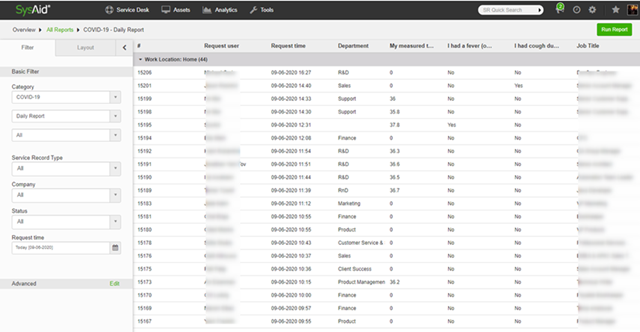 Automated Workflows
If you are using the SysAid's Automate Joe embedded service, the Worksafe app adds an automated process that helps you enforce the requirement for employees in your organization to submit their daily health reports. This process can be set to run automatically on a daily basis.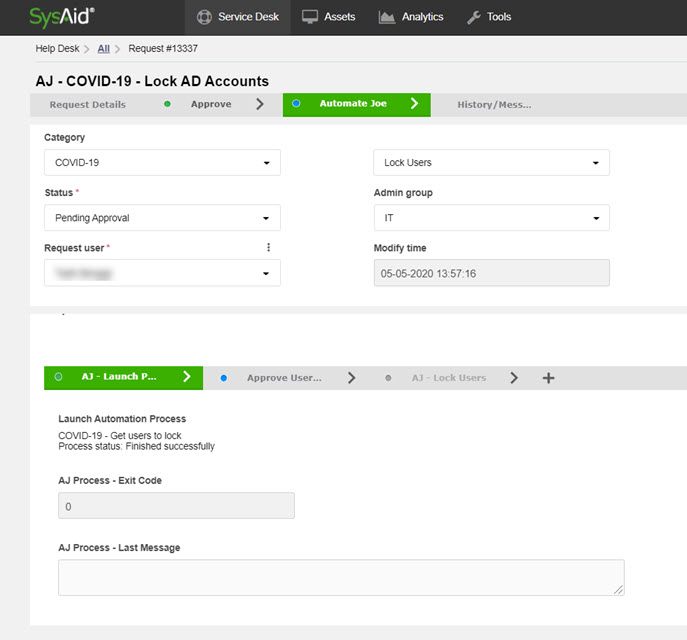 This allows you to set up a system where users know that if they do not submit their daily health report by a certain time, they will automatically be locked out of their account and will have to perform an account unlock if they want to access the company's network resources.
Manual setup
Admins running an On Premise edition of SysAid can manually add the WorkSafe functionality to their environment. Additionally, cloud users may want to use some of the same methods to customize and add to their WorkSafe functionality. Here's some quick instructions on fitting WorkSafe functionality onto your SysAid environment.
Create custom columns
Create custom fields to put in your WorkSafe incident form that you want your employees to fill out on a daily basis. For example, you create a numerical field for them to enter their measured temparature, or a list field for them to select where they are working that day. For more information, see Custom Columns.
Create a category
Add custom categories for WorkSafe tickets and reminder notifications. For more information, see Categories.
Create a template
Create a designated template for WorkSafe health reports that includes all of the fields you want the employees to fill out. For more information, see Templates.
Create a report
Create one or multiple reports that display your worksafe data. You can group the report by location or by the answer to whether or not the employee has experienced COVID-19 symptoms. You can also add helpful charts and graphs. For more information, see Reports.
Create a list view
Setup a list view in the SR list to display the data entered by your employees in their daily health reports. You can add the columns you created to the view and filter the view for closed tickets. For more information, see Lists.
Create a Service Catalog item
Add a service catalog icon that employees can click to quickly open the submission form for their daily report. Include a basic description on your icon that tells the employees about the report. For example, you can write "COVID-19 Compliance - Report daily attendance and temperature measurement". For more information, see Service Catalog. If you are not using the Service Catalog, see Toolbox for how to set up a toolbox item linking to the submission form.
Create an escalation rule
If an employee enters any information that is concerning, you'll want the appropriate people in your organization to be notified. Set up an escalation rule to notify certain users when a health report is entered with certain information. Here's an example of two escalation rules you can set up for these purposes: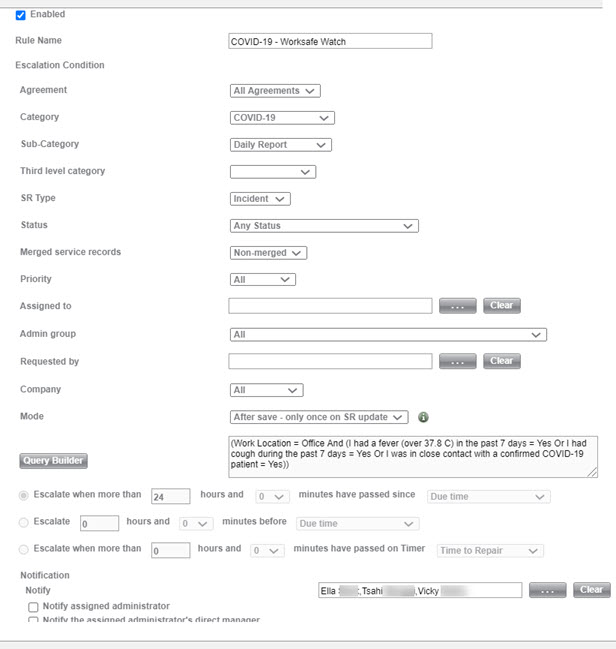 For more information, see Escalation Rules.
Configure Automate Joe lock user process
If you have SysAid's Automate Joe service, you can enforce complaince to daily health report by automatically locking the LDAP imported users who do not submit a report. To set up this process, contact your customer success manager. For more information, see Automate Joe.
---
Was this article helpful?
---
What's Next