Timer Forms
07 Jun 2022

1 Minute to read
Timer Forms
Updated on 07 Jun 2022

1 Minute to read
---
Share feedback
Thanks for sharing your feedback!
Service record timers allow you to measure the amount of time a service record spends in a particular state. The two default timers, for example, measure the amount of time it takes to resolve a service record and the amount of time it takes to first respond to a service record.
This tab allows you to create the timers necessary for you to gather the performance metrics important to your help desk.
Note: SysAid Basic Edition allows five timers and SysAid Full Edition allows ten timers.
The Timers form contains all of the information required to set up a timer.
To access other timers, see the Timers list.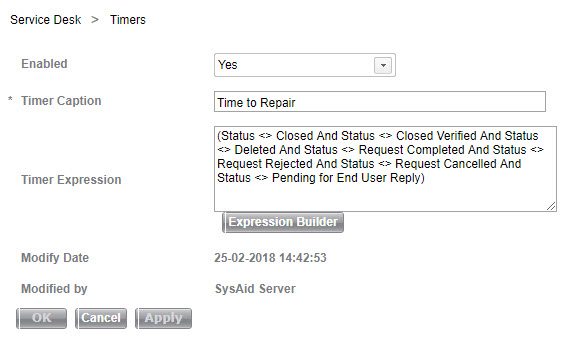 Creating and editing timers
To create a new timer:
From the Enabled drop-down list, select Yes.
Enter a timer Caption.
Click Expression Builder.
Use the Expression Builder to specify the exact service record details that cause the timer to run and then create the filter.
Note
You cannot set a timer to run on a status classified as Closed.
Click OK to save the new timer.
Any service record that matches the criteria in your timer causes the timer to run. The timer continues to run until the service record changes so that it no longer matches the criteria.
To edit a timer:
Overwrite an existing caption with your new caption.
Use the Expression Builder button to open the existing filter for that timer.
Make changes to the existing filter so that it matches your new criteria and then save it.
Click OK to save the modifications.
Viewing timers
You may view timers from the service record list.
Go to Service Desk > Help Desk > Incidents.
Select the view to which you would like to add the timer and click .
On the Customize List page, add your new timer from the list of available fields to the list of visible fields, and save the view. Full instructions for customizing lists can be found here.
Your timer now appears as a column in the SR list.
Timers are also accessed in several other places from within SysAid, including SLA measurement lists and escalation rules.
---
Was this article helpful?
---
What's Next