SLA/SLM Guide
07 Jun 2022

3 Minutes to read
SLA/SLM Guide
Updated on 07 Jun 2022

3 Minutes to read
---
Share feedback
Thanks for sharing your feedback!
Welcome to the SysAid Service Level Agreement (SLA) / Service Level Management (SLM) module!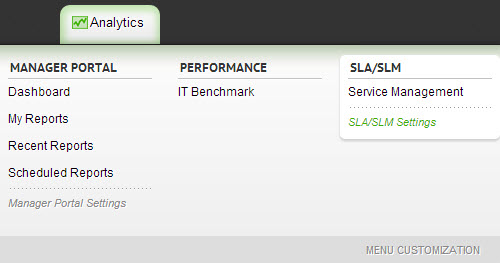 Today's technology users are more demanding than ever, and for good reason. Reliance upon IT for critical company infrastructure, desire for 100% uptime, and the simple fact that almost every person in a company has a computer means that an IT team is responsible for an ever increasing portion of a company's well-being. Companies depend on their IT team to provide a high level of service. After all, if the email server is down, the primary method of communication for nearly all workers is disrupted. If a users keyboards breaks, they can't continue working until they receive new keyboards. The importance of IT personnel has led many companies to implement standards for IT availability and response time. These standards for IT performance are called Service Level Agreements SLA().
More specifically, a Service Level Agreement is a contract that specifies the quality and speed of service that the IT team is expected to provide. For example, a company's SLA could specify that a particular server cluster must experience 100% uptime. In this case, the IT staff would spend extra time and money ensuring that this server cluster never experience a failure. There could be another component of that SLA which states that any problem that prevents users from doing their jobs, such as a keyboard or monitor failure, must be resolved within one1 hour. Sometimes a company may have different SLAs for different users, specifying that the same situation be handled differently depending upon who asks for the service. An example of this would be a VIP receiving faster response times than other workers. A company can have many different SLAs, or only one SLA that covers all aspects of their IT service operation. Regardless of how many SLAs a company has and of how they are set up, SLAs are only relevant if IT holds to them. The measurement of IT conformance to SLAs within a company is called Service Level Management.
SysAid's Service Level Agreement (SLA)/Service Level Management (SLM) module allows you to define SLAs for your company within SysAid according to the agreements you follow today. SysAid SLA/SLM gives you the flexibility you need to take the complex SLAs of your IT staff and implement them in a manner that allows for measuring them and automatically reporting on them. You can easily see deviance from predefined SLAs, as well as outstanding performance. Most importantly, SysAid offers you the in-depth detail you need to analyze the root cause of SLA non-conformance and to make sure that your service level is always the best.
The following help files are designed to help you understand and use SysAid SLA/SLM.
How to use these help files
The different components of SysAid SLA/SLM are all related, and the order in which you set things up matters. For that reason, we have created a recommended path you take through the help files to learn how to configure and use SysAid SLA/SLM.
Part 1: Define SLAs
Create your agreements (Service Agreement).
Input the parameters for your different agreements (Edit Agreement).
Assign your users and companies to the appropriate agreements under User Management (Edit End User Properties, Edit Admin Properties, Edit Company Properties). You will need to add the Agreement field to the user and company forms using the design form icon .
Part 2: Measure performance against SLAs
Look at an example to understand measurements within SysAid (Measurements Intro).
Decide what you need to measure (this you do on your own). Keep in mind that SysAid comes preconfigured with 13 measurements that cover many of your needs.
Define a data set to run your measurements on (Measurement Lists, Measurement List Edit).
Specify the calculations to be run on that data set (Measurements).
Input performance targets specified by the SLA (Measurement Edit).
Part 3: View performance
Build the Service Management tree using the Parent Measurement field (per measurement) (Measurement Edit).
Review your SLA performance (Service Management).
To make your life easier as you configure SLA/SLM:
Many elements of SysAid SLA/SLM are interdependent. Setting up SLAs and measurements within SysAid is much easier when you plan out your SLA requirements or desired measurements before starting to enter them into SysAid.
---
Was this article helpful?
---
What's Next