User Groups
27 Sep 2023

1 Minute to read
User Groups
Updated on 27 Sep 2023

1 Minute to read
---
Share feedback
Thanks for sharing your feedback!
Groups in SysAid can be of three types:
Administrator groups, that contain only administrators
End user groups, that contain only end users
General groups, that contain both
There is no limit to the number of groups a user can belong to.
Groups in SysAid have multiple uses:
Service records, projects, and CIs can be assigned to groups
Administrators can be restricted to views service records, tasks, projects, etc. that are assigned to one of their groups
SysAid Calendar events can be displayed only to a particular group
News items can be restricted only to a particular group
And more...
This page shows you a list of the groups you have in SysAid. Click on a group to view details for that group, including which users are included in the group.
Note
Groups can be imported from LDAP. For more information, please go
here
.
List of user groups in SysAid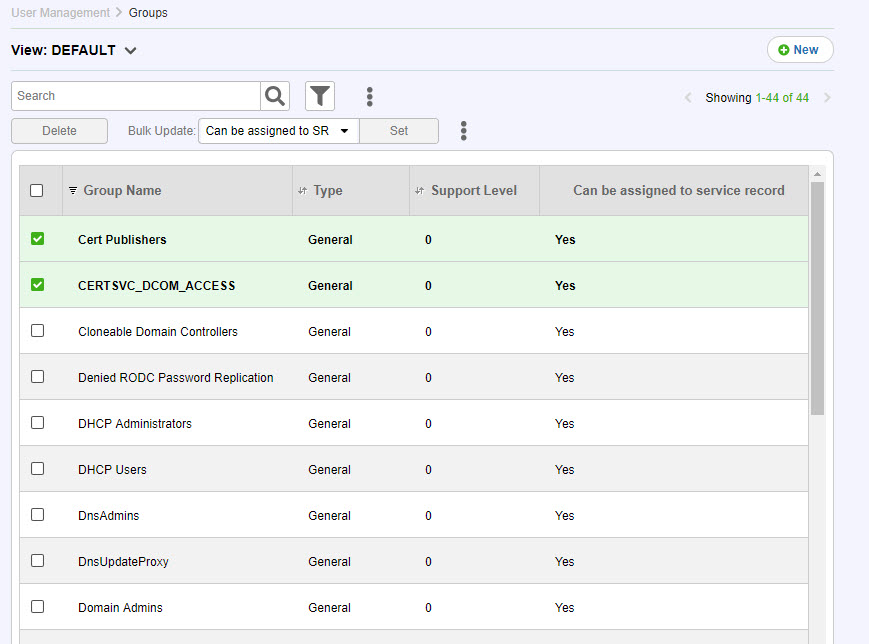 For general instructions for using list pages in SysAid, please go here.
Creating and Modifying User Groups
Click

to create a new user group. Click on the row of an existing user group to edit it. For more information about creating and editing user groups, please go here.
List Actions
There are a number of actions you can perform on your lists using the actions list. To open the actions list, select one or more list entries using the checkboxes at the left end of each row. This opens the actions list: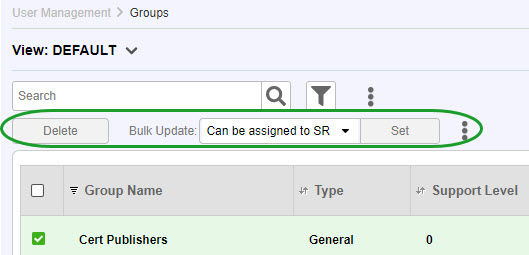 Delete
Delete the selected user groups.
Export to Excel
Click

and click Export to Excel to export the list to a .csv file in Excel.
Print to PDF
Click

and click Export to PDF to export the list to a .pdf file.
Can be Assigned to SR
If a group can be assigned to a service record, the group is selectable in the admin group lists on the SR form, in routing, and in the Expression Builder. Note that there are some places, such as the SysAid Calendar, where the group will always appear.
Choose "Yes" or "No" from the drop-down list and click Set to change this option for the selected groups.
More Actions
Click

and then More Actions to open a popup window where you can change the Support Level and the Company for the selected groups. The value you enter for Support Level must be a positive integer. Read more about the function of Support Level here.
Click Save to update each of the selected groups with the new support level and/or company.
---
Was this article helpful?
---
What's Next