Chat Console
14 Dec 2022

5 Minutes to read
Chat Console
Updated on 14 Dec 2022

5 Minutes to read
---
Share feedback
Thanks for sharing your feedback!
The SysAid Chat console is where you will spend most of your time administering chats.
The Chat console has many components. Click on a number in the picture to jump to a description of that section.
SysAid Chat Console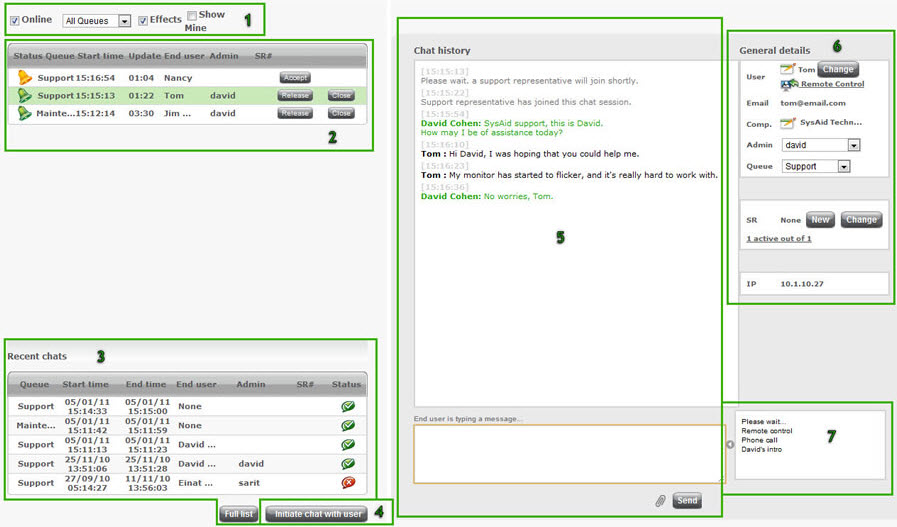 Queue Options

Online: When you first open Chat, you must check this box to go online. In order for the Chat icon on the Self-Service Portal or on your website to display the online image, at least one administrator must have the Chat console open with the Online check box selected.
Chat Queue: You can only see active chats in the queue specified here. You can also choose to see chats in all queues.
Effects: Check this to enable effects. If effects are enabled:
A sound effect is triggered for new incoming chats.
A sound effect is triggered when an end user types a reply in an active chat assigned to you.
Note: You can change or disable the sound effects for new chats and for replies in Settings > Customize > Customize Appearance.
If you have another window open other than the Chat console, the Chat console comes into focus when either a) there is a new incoming chat or b) when an end user types a reply in an active chat assigned to you. The exact behavior of this effect depends on your web browser.
Show Mine: If this is checked, you see only active chats that are assigned to you or are unassigned. You do not see chats assigned to other administrators.
Active Chats
Here you can see all active chats in the selected queue.

Status:
A grey bell indicates that an end user has initiated a chat, but has not yet entered any text.
A flashing

orange

bell indicates a chat in which the end user typed the last response.
A

green

bell indicates a chat in which you typed the last response.
A

red

bell indicates an idle chat that will soon be closed.
Update: Indicates the amount of time that has elapsed since the last response (either by administrator or end user).
SR#: If the chat is connected to a service record, the SR# is displayed here.
Accept: Accept a chat to begin chatting with the end user. Once you've accepted a chat, no other admins can chat with this user.
Release: Mark the chat as unassigned. An unassigned chat can be answered by any administrator working on the same queue.
Close: End the chat session for both administrator and end user.
Recent Chats
Recent Chats displays a list of the last five chats. It includes chats from all queues. You may click on a chat in this list to view the contents of that chat in the Chat History (see this section below).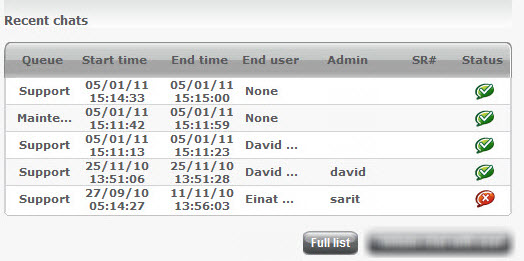 Status:
A green check box indicates a chat closed by either the end-user or the administrator.
A red X indicates a chat automatically closed by the system due to inactivity.
Click Full list to see a full list of closed chats.
Initiate chat with user
Click
to open a list of all users in SysAid. Select any user from the list to send a request to chat to their computer. This functionality only works if the user has the SysAid agent installed on their machine.
Chat history and chat entry
There are two large panes in the center of the Chat console: the top pane shows the full chat conversation, and the bottom pane allows you to chat with your end users. As your end users chat with you, their replies appear in the top pane. Click in the bottom pane to begin typing your response. When you are done typing, press Enter on your keyboard or click Send.
Attaching files to a chat
You can attach a file to a chat by clicking

. This opens the Upload Attachment screen.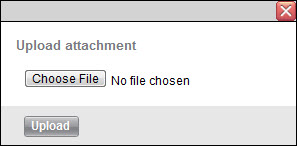 Choose your attachment and click Upload. Your end user can download the file directly from chat.
Back to top
General Details
General Details provides you with information about the end user whose chat you are looking at, such as their name and email address (if they're logged into SysAid, or if they've entered them from the details screen before the chat starts), and their IP address.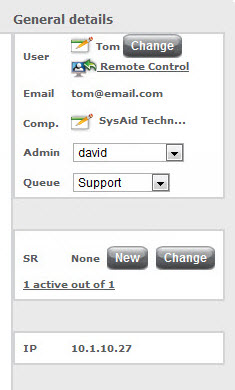 There are several functionalities available from General Details:
View end user/company details: Click

next to User or Company to view details for that user or for that company (companies in SysAid Full edition only).
Remote control: Click

to initiate a remote control with the user you are chatting with (when an admin clicks here, SysAid checks the list of Online Users to see if the user is currently logged in to the network. If the user is logged in, SysAid sends the chat request to the machine he or she is logged into).
New/Change SR buttons: You can create a new service record directly from your chat if you click New. Alternatively, you can attach the chat to an existing SR by clicking Change. Clicking New opens the New SR form. Clicking Change opens the Help/Service Desk List so that you can choose the appropriate SR. If you later open the attached SR and click on the Chats tab, you can view the full chat transcript.
X active out of X: The first X represents the total number of active service records from this end user. The second X represents the total number of service records submitted by this end user, including closed SRs. You can click here to view a list of all active SRs for this user.
The general details section has one additional, very important function: it allows you to reassign the current chat to a different administrator or to a different chat queue:
Admin: Select another administrator from the list to reassign the current chat directly to that administrator. This is different from the Release button (see this section), which marks the chat as unassigned so that any administrator can take it.
Queue: Choose a queue from this list to reassign the current chat directly to that queue. Once in the new queue, the chat is marked as unassigned.
Automatic Texts
SysAid Chat supports automatic texts so that you can easily send prewritten responses to your end users.
Select the automatic text of your choice.
Click to move the text into the chat entry pane.
Click Send or press Enter on your keyboard to send the message.

Automatic texts are configured per queue, this means that if you want to use the same automatic text for two different queues, you must configure it for both queues. You can set up automatic texts from Settings > Chat > Chat Queue (click on the queue of your choice to open it) > Queue Automatic Texts (tab).
---
Was this article helpful?
---
What's Next