BI Analytics
27 Sep 2023

4 Minutes to read
BI Analytics
Updated on 27 Sep 2023

4 Minutes to read
---
Share feedback
Thanks for sharing your feedback!
The SysAid BI Analytics module enables you to uncover the potential of your Help Desk data using the Qlik Sense platform in your SysAid installation. The analysis you perform with this tool allows you to identify trends and outliers in your organization by asking pointed questions in a structured manner. You can focus in on important measurements relating to your SRs and admins, display data in predefined charts and graphs, and create dynamic presentations that show the data most relevant for you. This leads to meaningful and actionable conclusions about the state of your Help Desk.
This module is a Cloud-based solution. It is also available in Hybrid mode for On-Premise installations (see below for more details).
For information on filtering data in BI Analytics, see Filter BI Data.
For information on the various graphs or charts available for displaying your data, see BI Analytics Chart Options.
For information on creating dynamic presentations of your BI data, see BI Analytics Presentations.
BI Analytics video
Getting started
To grant an admin access to BI Analytics, update his or her admin permissions to include the Access BI Analytics permission. Once this permission is granted, the admins can immediately access the BI Analytics menu item, but must wait until the cloud-based BI Analytics module is updated with his or her admin information. If an admin opens BI Analytics before the file is updated they will encounter the following error message: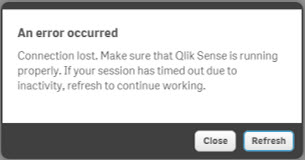 The first time this process runs, the file contains up to three years of historical help desk and user data and should populate the BI Analytics module and transfer user permissions within an hour. Subsequent runs only contain new and/or updated data and could take up to 12 hours for the information to reach BI Analytics. If you update an SR or grant a new admin BI Analytics permission, the SR information might not display in BI Analytics and the admin may not be able to open BI Analytics for up to 12 hours.
Important:
To access BI Analytics your browser must allow third-party cookies, particularly from sysaidit.com. If your browser settings do not allow for third-party cookies, set up an exception for sysaidit.com.
Navigate
Sheets
The data in BI Analytics is displayed across several screens called "sheets".
The "Currently Active SRs Overview" sheet functions as a dashboard for BI Analytics and automatically filters for active SRs. This sheet ignores all time-related filters as well as the Admin Group filter. Even if one of these filters is displayed in the filter bar at the top of the sheet, it is not applied to the data on this specific sheet. All other filters are applied to the data.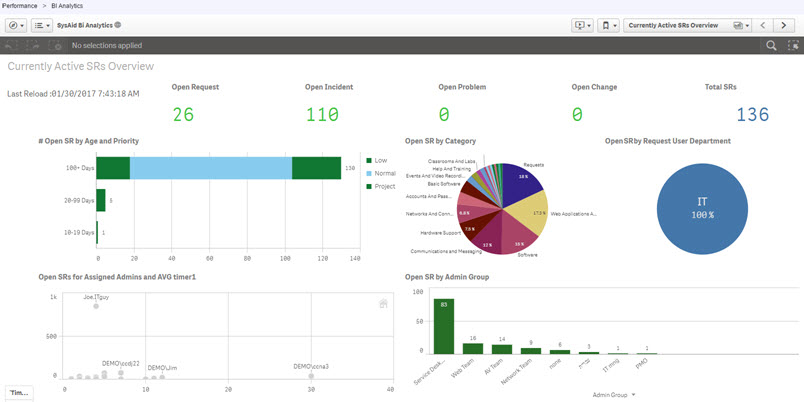 Use the Forward and Back arrows to navigate to the next or previous sheet. To jump to a specific sheet, click the sheet name to open a menu of all the sheets in your system.
For information on customizing a sheet or creating a new sheet, contact your account manager.
Expand Chart
You can get a better look at a chart by viewing it in full screen mode.
To expand a chart
Hover your mouse over the chart and click .
To exit full screen mode, click .
Bookmarks
If select a set of filters that you think you may want to come back to, you can create a bookmark that automatically reproduces the filters on that sheet.
Create a bookmark
When you have selected the filters you want to save, click .
Click Create new bookmark.
Enter a title and description for your bookmark.
Click outside of the gray area.
View bookmark properties
You can view a bookmark's description and filters to determine if you want to open that bookmark.
Click .
Click the corresponding to the bookmark you want to view properties for.
Edit bookmark properties
Click .
Click the
corresponding to the bookmark you want to edit properties for.
Click .
Edit the bookmark's title and/or description.
click .
Delete a bookmark
Click .
Click the corresponding to the bookmark you want to delete.
Click .
Click .
Metadata fields
SysAid displays certain metadata fields that tell you how updated the information is in BI Analytics.
Date last loaded
Last reload
Published - The date when the current version of the BI Analytics application was released.
Published to
Last record load - The date that the most recent SysAid ticket was synced with the BI Analytics data

How it works
BI Analytics uses Single Sign On to log you in to the cloud-based solution from within your browser. Relevant information (only Service Record data displayed in BI Analytics) is taken from your SysAid installation, zipped, and encrypted on your SysAid server. That information is then automatically uploaded on a regular basis to the SysAid cloud and processed into the cloud-based BI Analytics module (powered by Qlik Sense).
BI Analytics is extracted from your production environment twice a day. This allows you to view and work with recently updated historical data without affecting your production Help Desk environment.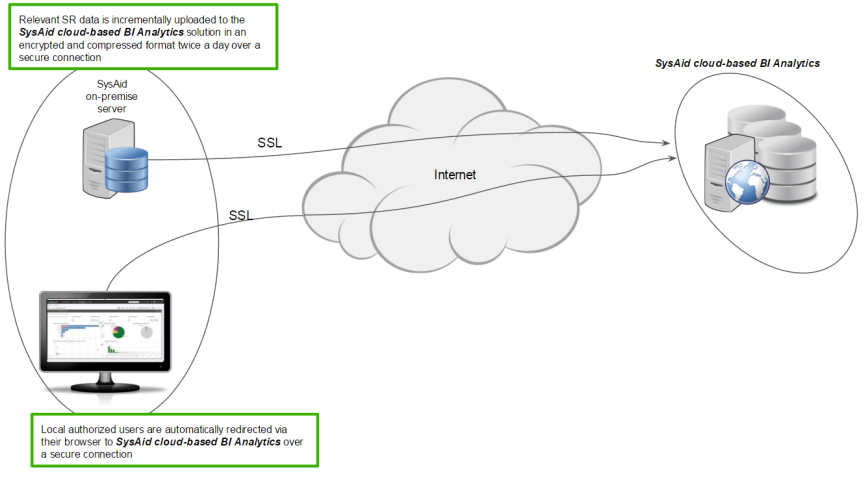 Because the BI Analytics module is connected to a cloud server, it is possible that your BI Analytics connection will timeout after a given length of inactivity. If this occurs, click Refresh to reconnect to the server, or refresh your browser.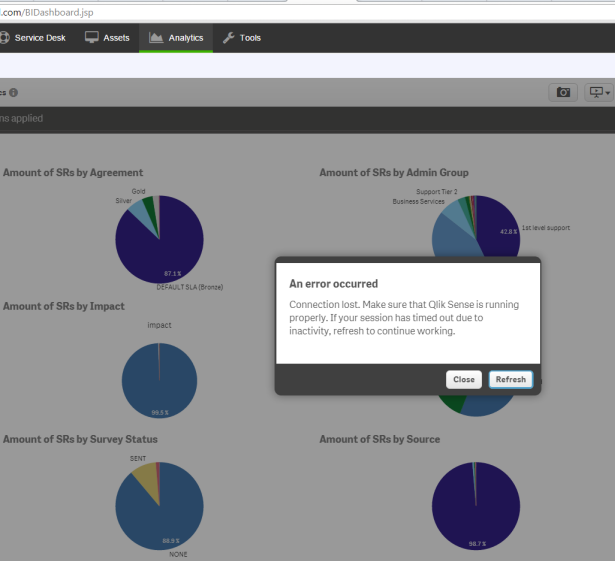 ---
Was this article helpful?
---
What's Next