SR Form - Custom Printout
06 Oct 2022

2 Minutes to read
SR Form - Custom Printout
Updated on 06 Oct 2022

2 Minutes to read
---
Share feedback
Thanks for sharing your feedback!
In addition to the default service record printout accessible by clicking Print in the SR Actions menu, you may find it helpful to customize your own SR printout. A custom SR printout is simply an Excel spreadsheet of your design that SysAid populates with all necessary fields from the service record.
Example of a customized printout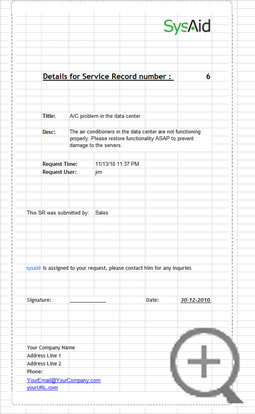 To customize the printout of a service record, please do the following:
Go to Service Desk > Help Desk > Incidents and click on any service record.
Click Design Form on the top right of the form.
In the Design Form window, select "Customized Printout" from the Tab drop-down list. Then, move any fields you want to show up in your printout from the Available Fields list to the Visible Fields list. Click on Save.
Important: If a field does not show up in Visible Fields, it will not show up in your printout, even if you include that field on the Excel template.
On the computer hosting your SysAid, go to ...\SysAidServer\root\WEB-INF\conf\templates. If you are using a Cloud account, contact your customer relations representative to request the Excel file described in the next step.
You should see a file called <your_account_ID>_customized_printout.xls. Open it in Excel. Make a backup of this file before you begin editing it (optional).
The Excel you've opened has two tabs: SR Printout and Data.

The SR Printout tab contains the visual template for your customized report. You may edit this as you see fit. Please note that only text contained within the defined borders will actually be printed.
The Data tab contains a list of available SR fields that you may add to your printout. The field name is contained in column A, and the field content is contained in column B. For example, cell A14 has the field name Solution, so you know that the content of the solution field is in cell B14. (Note that in the Excel template, the entire B column is blank. The data is only populated when you do a customized printout. Do not edit the Data tab.)

Therefore, if you would like to add the Solution field to the customized printout, on the SR Printout tab you would type "Solution:" in the desired cell and then type =$ Data.B14 in the adjoining cell. If you would like to add the Resolution field to the SR Printout tab, you would type "Resolution:" in the desired place and then type =$Data.B15 in the adjoining cell.
Save the document when you are finished making changes. All customized printouts will use this file as the template.
To print a service record using your custom template
Open any SR.
On the top right of the form, click Actions.
From the drop-down list, click Customized Printout.
---
Was this article helpful?
---
What's Next