SR Business Impact
28 Jul 2022

1 Minute to read
SR Business Impact
Updated on 28 Jul 2022

1 Minute to read
---
Share feedback
Thanks for sharing your feedback!
The Business Impact tab shows you which CI this service record is connected to (referred to as the Main CI ). This allows you to predict other IT problems that might arise because of the open service record.
Example: As you can see in the screenshot below, Adobe Dreamweaver is installed on MKT026, and Dreamweaver is connected to the Technical Writing business process (only the word "Technical" appears in the screenshot). Therefore, if MKT026 has a problem that prevents it from being used, you know that there won't be any further updates to the technical documentation until the problem is fixed.
By always viewing the business impact of a service record, you can better prioritize your time, and you can make sure to always respond to the most important service records first.
Note: In the CI Relations Graph, CIs with active service records are highlighted in orange, and CIs with monitoring warnings or errors are highlighted in red.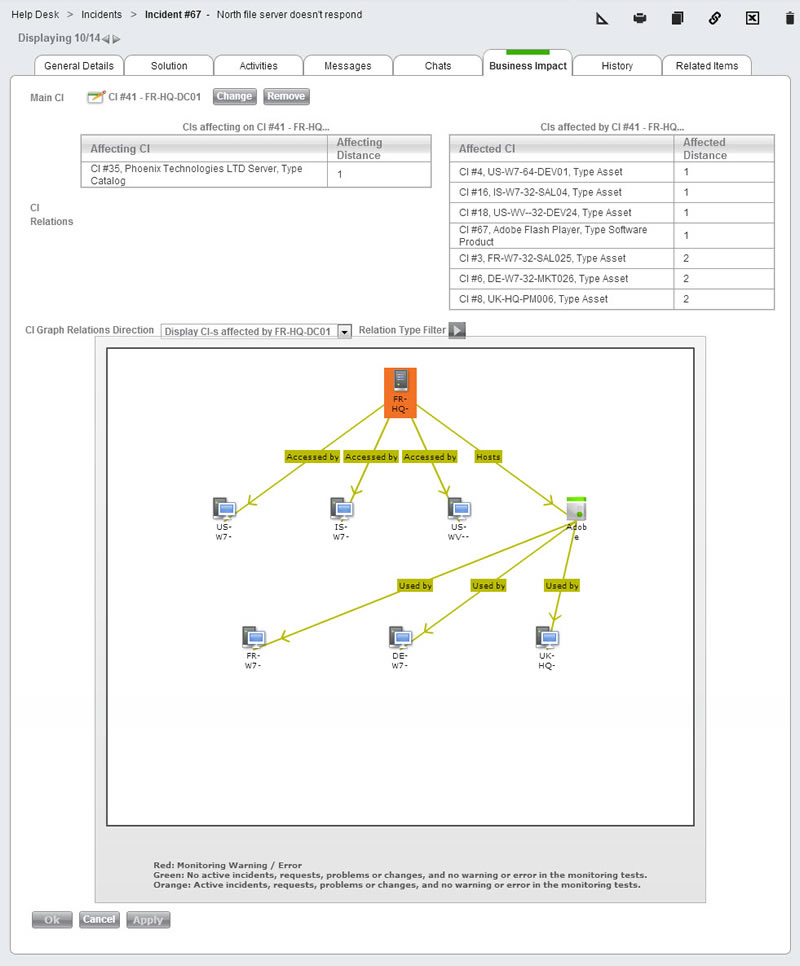 Attaching a CI to a service record
If a service record has a Main Asset, and if that Main Asset has been imported to the CMDB, then a Main CI is automatically attached to the service record. In other cases, you need to manually attach a CI to the service record.
To attach a CI to a service record:
Click Changeto open a list of CIs in the CMDB. Note that the default category filter for this list is the category of the service record, and you will only see CIs that have this category. If you would like to view CIs in other categories, you must update the category filter.

Viewing CIs in the Server category

Search for the desired CI, and click on it to attach it to the task.
Click OK/Apply after attaching the CI.
You can now see the Business Impact of this task on your network.
Filtering the CI Relations graph
Using the drop-down list, you can choose to view CI relationships affecting the CI, affected by the CI, or in both directions. You may also use the Relation Type Filter to show only certain types of relationships in the graph. For example, if you want to see only software installed on a workstation, you would create a filter that shows only CIs connected by the Installed on/Contains SW relationship.
---
Was this article helpful?
---
What's Next