Routing Rules List
14 Nov 2023

1 Minute to read
Routing Rules List
Updated on 14 Nov 2023

1 Minute to read
---
Share feedback
Thanks for sharing your feedback!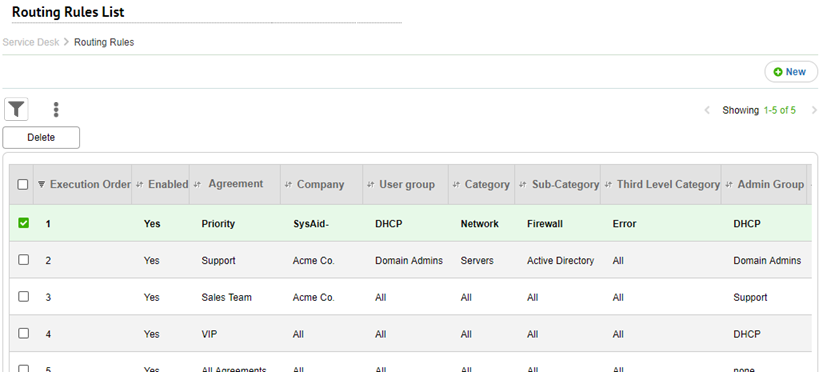 Routing rules allow SysAid to automatically assign service records to administrators or admin groups. This is useful in cases where you know in advance which admins or admin groups work on service records that meet certain specifications.
SysAid orders the rules based on specificity. This means that the more specific a rule is, the earlier it runs. SysAid adjusts the execution order every time a rule is added. This is not affected by which columns the Routing Rules list is sorted by.
For general instructions for using list pages in SysAid, see Using SysAid Lists.
To add new routing rules
To delete routing rules
Select the check boxes corresponding to the routing rules you want to delete, and click Delete.
To export the routing rules list
Click .
Select Export to Excel or Export to PDF.
Reorder the Routing Rules
You can change the order that routing rules list which also affects the order in which the rules are processed when there's a conflict. The higher up a rule appears on the list, the higher priority SysAid assigns to it when it runs multiple rules.
To change the routing rules order
Make sure that the Use default routing rules order check box is not checked.
Use the up and down arrows in the Update Order column to move routing rules up and down on the list.
---
Was this article helpful?
---
What's Next