Routing Rules Form
07 Jun 2022

1 Minute to read
Routing Rules Form
Updated on 07 Jun 2022

1 Minute to read
---
Share feedback
Thanks for sharing your feedback!
Routing rules allow SysAid to automatically assign service records to administrators or admin groups without you having to even look at them. This is useful in cases where you know in advance who will work on a specific service record.
The Routing Rules form contains all of the information required to run a routing rule.
To access other routing rules or to delete a routing rule, see the Routing Rules list.
Routing can be based on:
Agreement (SLA/SLM module only): This is the request user's SLA.
Company : This is the company the request user of the service record belongs to.
User group : This is the user group the request user of the service record belongs to.
Category : This is the category of the service record.
You can route to administrators and/or administrator groups.
Note : Under Settings > Service Desk > General, there is an option to Reroute Service Records, based on routing rules, when the details of the request change. If this option is checked, then any time either the category or request user of a service record changes, routing rules will be applied again.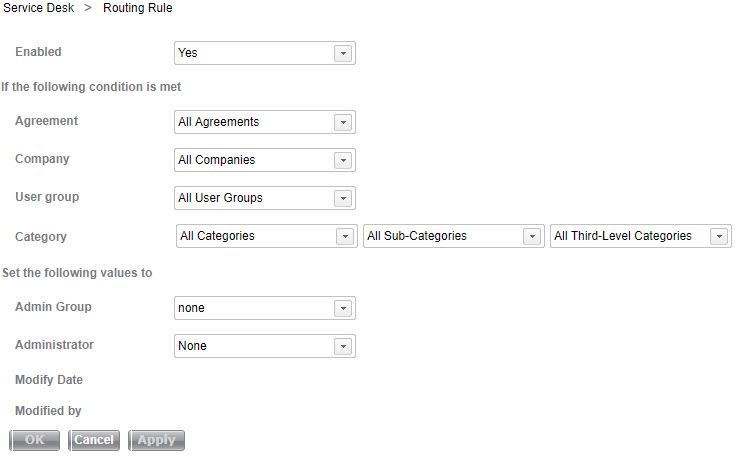 To create or edit a routing rule:
Enable the rule by selecting Yes from the Enabled drop-down check box.
Select the rule criteria for the rule (refer to list above for your choices).
Select the desired administrator and/or administrator group.
Click OK.
---
Was this article helpful?
---
What's Next