Main
19 Jun 2022

1 Minute to read
Main
Updated on 19 Jun 2022

1 Minute to read
---
Welcome to SysAid My Desktop! For a complete overview and walkthrough of My Desktop, please see our full My Desktop Guide.
This page allows you to do the following:
Enable My Desktop
View the number of active My Desktop sessions
View the number of users registered for My Desktop and the number of assets accessible by My Desktop
Embed the My Desktop icon in your website to give end users easy access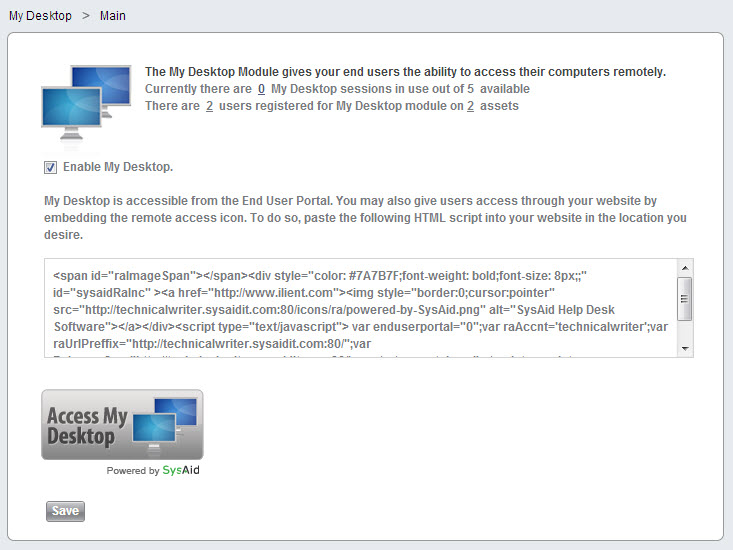 Enabling My Desktop
Before your end users can start using My Desktop, you must enable it here. To enable My Desktop, check the box Enable My Desktop and click Save.
Note: You can still fully configure My Desktop even if it's not enabled. However, the module is accessible to end users from the End-User Portal only after you enable it here.
Viewing active My Desktop sessions
SysAid shows you how many active My Desktop sessions there are versus how many total concurrent sessions your license allows. If you are using all available My Desktop sessions, you won't be able to start a new session until at least one existing session is closed. Click on the number of total active sessions to view a list of these active sessions with details for each session.
Viewing registered users and accessible assets
SysAid shows you how many users are registered for My Desktop and how many assets are available for users to control. Click on the appropriate number to see a full list of registered users or accessible assets.
Embedding the My Desktop icon in your company website
You can allow your end users to easily access My Desktop from anywhere they have an internet connection by embedding the My Desktop icon into your company website. To do so, simply copy the generated code into the web page of your choice in the location of your choice. Users who click on the icon are taken directly to the My Desktop page on the End-User Portal (after logging in).
---
Was this article helpful?
---
What's Next