Fields Customization
04 Oct 2022

1 Minute to read
Fields Customization
Updated on 04 Oct 2022

1 Minute to read
---
Share feedback
Thanks for sharing your feedback!
Introduction to Entity Customization
In SysAid, an entity is defined as any item type that holds a particular type of information. Examples are service records, assets, tasks, and projects. Each entity has its own predefined fields, such as Status for service records and Type for assets. These fields show up in the list for that entity (e.g. service record list) and in the form (e.g. SR form). The SysAid Full Edition allows you to add your own custom fields to any supported entities. These fields will then show up for use in the appropriate lists and forms.
For each entity type, you may also create triggers that will affect the form page for that entity. Triggers can be On Load, Before Save, and After Save. These triggers allow you to perform specific actions, such as data validation or exporting data from the form to an external database.
You can add custom fields and triggers to the following entities:
Asset
Service Record
Task
Project
CI
User
Company
Action Item
Note
You can create up to 200 custom fields per entity.
Entities available for customization in SysAid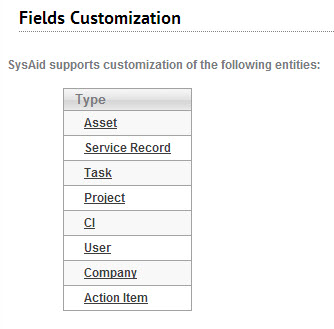 From this list, click on the entity to which you would like to add a custom field or a trigger.
Further instructions for adding custom fields can be found here.
Further instructions for adding triggers can be found here.
Note that the Action Item entity doesn't support custom triggers.
---
Was this article helpful?
---
What's Next