Closed Chat
26 May 2022

1 Minute to read
Closed Chat
Updated on 26 May 2022

1 Minute to read
---
Share feedback
Thanks for sharing your feedback!
This page shows a transcript of a closed chat, as well as all relevant details for that chat.
You can use the print icon

to export the chat to .pdf format for ease of printing.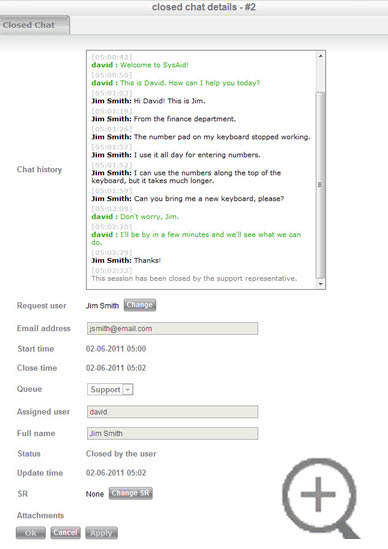 The following fields are recorded for each closed chat:
Request user
This is the end user who was involved in the chat. You can change this even after a chat has been closed by using the Change button.
Email address
This is the email address of the end user who participated in the chat.
Start time/Close time
These two fields show the time that the chat started and ended, respectively.
Queue
The queue that handled the chat.
Assigned user
This is the administrator who handled the chat.
Full name
This is the name of the end user who participated in the chat.
Status
Shows whether the chat was closed by the end user, by the administrator, or by the system (chat timed out).
Update time
Shows the last time the chat was updated.
SR
Shows the number of any service record that was attached to the chat. You can change this using the Change SR button. Chat that are attached to service records appear in the Help Desk on the Chats tab for that service record.
Attachments
Any attachments uploaded during the chat appear here in a list. You can click on an attachment to download it.
---
Was this article helpful?
---
What's Next