Task
27 Sep 2023

1 Minute to read
Task
Updated on 27 Sep 2023

1 Minute to read
---
Share feedback
Thanks for sharing your feedback!
Here you can view a list of all your tasks. Click on any task to view details for that task.



For general instructions for using list pages in SysAid, please go here.
Creating and modifying tasks
Click

to create a new task. Click on the row of an existing task to edit it. For more information about creating and editing tasks, please go here.
List Actions
There are a number of actions you can perform on your list using the actions list. To open the actions list, select one or more list entries using the check boxes at the left end of each row. This opens the actions list: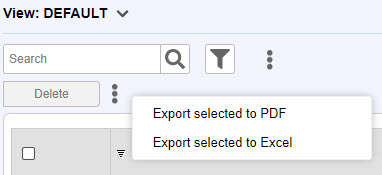 Delete Delete the selected tasks.
Export Selected to PDF
Click

and select this option to export the selected tasks to .pdf. You can then easily print them.
Export Selected to Excel
Click

and select this option to export the selected tasks to .csv. You can then print them, or use the data for further calculations.
Viewing a Gantt of your tasks
Sometimes it's helpful to see a visual representation of your tasks and the order in which they occur. You can view such a chart by clicking

and then clicking View Gantt.The Gantt chart shows you all tasks in the task list in chronological order, sorted by task category. Only tasks that are visible with your current filters appear in the Gantt. For example, you could filter the list by user to show only tasks you're involved with, then view the Gantt chart to see which tasks you have open and when they are due.
Gantt showing all tasks that are part of Replace FS01 the project (based upon screenshot above)

Predefined list view
The SysAid Task list includes one predefined view: Combined . This view determines which fields are shown for each task when clicking on the

icon next to a project on the Project list.
---
Was this article helpful?
---
What's Next