General Settings
27 Sep 2023

3 Minutes to read
General Settings
Updated on 27 Sep 2023

3 Minutes to read
---
Share feedback
Thanks for sharing your feedback!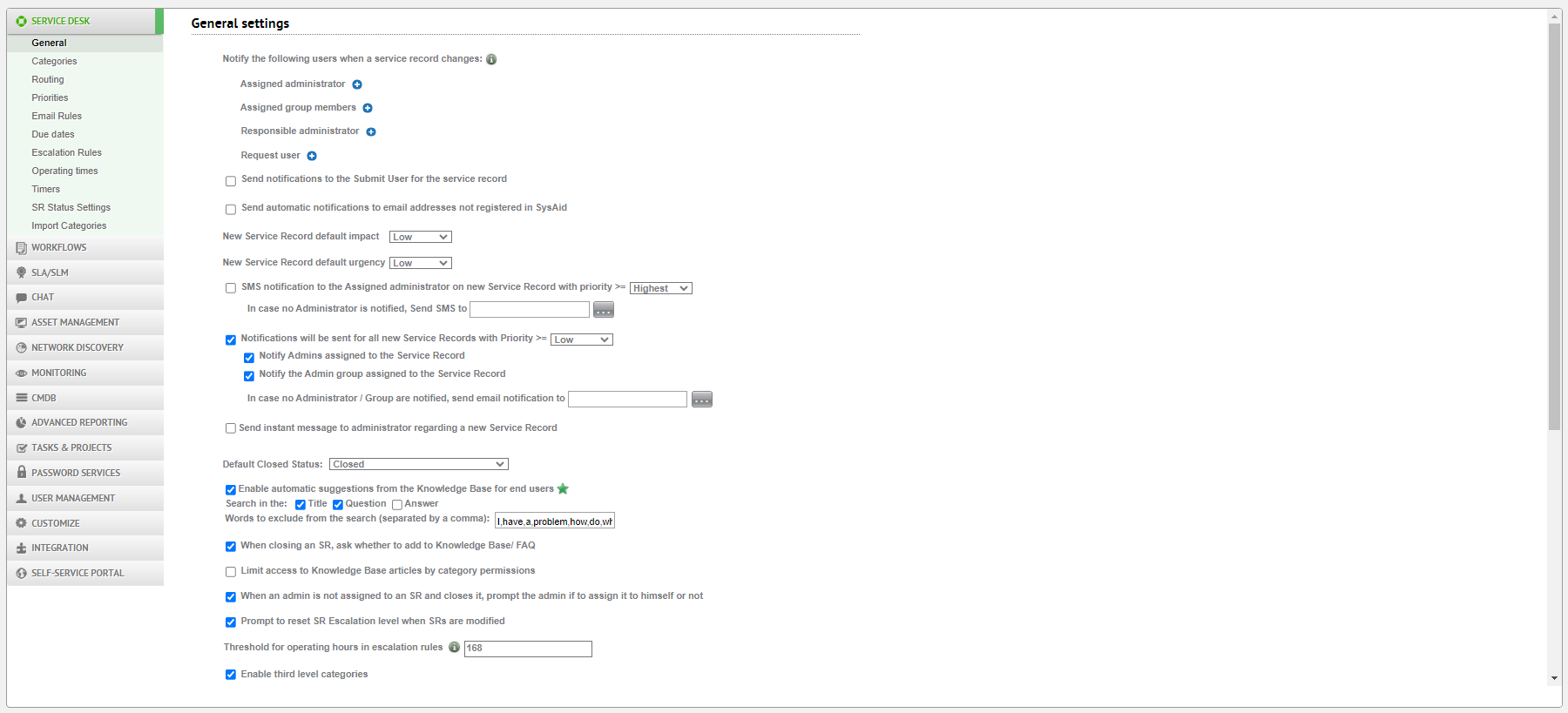 The General Settings page is where Admins can configure multiple behaviors in the Service Desk.
These capabilities pertain to:
Note
Be sure to click Save after making any changes to this page.
Automatic Notifications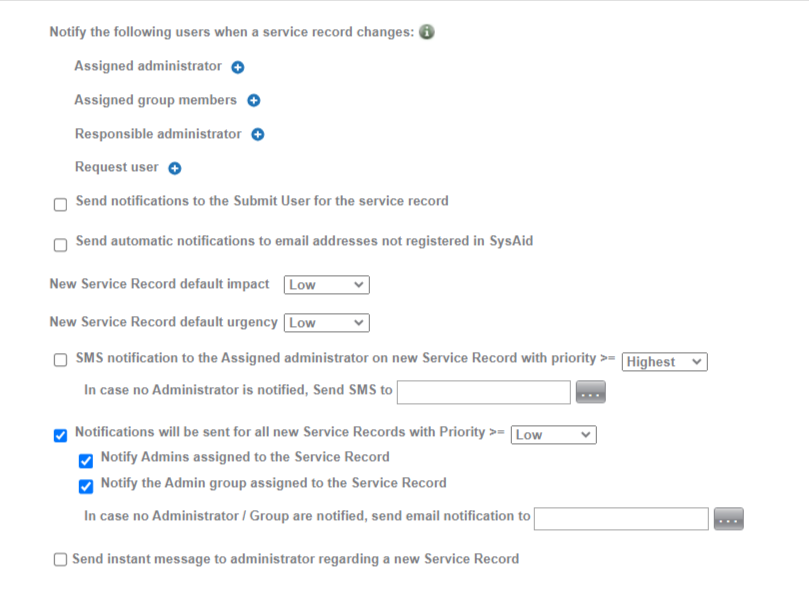 Service Desk Automatic Email & Push Notifications
You can configure which SR Changes trigger automatic email notifications and push notifications sent to Admins.
Service Record Activity
Notification Recipient Options (one or more)
Status Change*

Assigned Admin
Assigned Group Members
Responsible Administrator
Submit User
Non-registered Users
Request User

"Assign to" Change

Assigned Admin
Assigned Group Members
Responsible Administrator
Submit User
Non-registered Users
Request User

Notes Changes ("Notes added" in Classic)

Assigned Admin
Assigned Group
Responsible Administrator
Submit User
Non-registered Users
Request User

Other changes

Assigned Admin
Assigned Group
Responsible Administrator
Submit User
Users not registered in User Management

New Service Record

Submit User
Admin (Instant Message)

New Service Record with selected Priority (Low/Normal/High/Very High/Highest)

Assigned Group
Assigned Admin
Assigned Admin (SMS)
Custom phone number (SMS)

New Service Record with selected Impact

(Low/Normal/High/Very High/Highest)



* Admins can define (through multi-select) which Status Change values trigger Notifications:
Notes
You can choose to attach a link to your survey to the automatic email notification sent when you close a Service Record
If the Submit user was an end user (e.g. the end user opened the service record from the End-User Portal), both them and the Request User will receive the Notification
To use SMS notifications, you must first configure SMS integration, and then put in your administrators' Text Message number
If a SR has no assigned Admin, you can select one or more Admins to receive the SMS or Email Notification using the three dots icons
If the "Low" Priority level is set as a Notification trigger, the recipient will receive a Notification for every SR that is opened


Default Values
Default Value for Impact and Urgency Fields
You can define default values for a Service Record's Impact and Urgency Fields (Low/Normal/High/Very High/Highest) which will impact all new Service Records submitted to the Service Desk (unless otherwise specified by the Admin).


Default Value for Closed Status Field
You can set a default Closed Status to populate the Close Status field when it hasn't been populated.
Currently, this is only relevant for the SysAid mobile apps.
Knowledge Base


Title Field Suggestions
You can enable auto suggestions from the Knowledge Base for when users (End Users, Admins, or both) are populating the Title Field.
You can configure one or more Knowledge Base Fields to derive the suggestions from (Title, Question, and Answer).
You can also specify words for the Search to exclude from its results.
Limit Knowledge Base Article Access
You can limit Knowledge Base article access to be defined by Category access so that Admins and end users can only access each article if they have access to its associated Category.
Automatic Service Record Behaviors
You can activate a number of Service Record behaviors by enabling the triggers listed in the table below.
| User Action | Automatic Result |
| --- | --- |
| Admin closes a Service Record that they're not assigned | Ask Admin if they want to assign it to themselves |
| Admin re-assigns Service Record to themselves | Ask Admin if they want to reset the Service Record's Escalation Level |
| Request User or Category Fields updated | Routing Rules reapplied |
| Request User updated | Change SLA |
| Change/Problem/Request Service Record (ITSM only) duplicated | Reset Action Item Status |
| Change created linked to an Incident (ITSM only) | Change Incident Status |
| Service Record closed | All Action Items automatically closed |
| Chat Session | Log as a Service Record Activity |
Automatic Incident Status Changes (ITSM only)
You can enable an automatic Status change for Incident Service Records for whenever Changes, Problems, or Requests are linked to that SR
For each of these three Service Record Types, one Status value can be chosen as the resulting Status:
New
Open
Closed
Verified Closed
Pending
Postponed
Deleted
Reopened by End User
User Responded
Pending Problem Resolution
Closed - AI
New - AI-driven Service
Pending User Response
Generative AI
SysAdmins with a valid AI license ("AI Admins") can enable Generative AI Features in General Settings page.
Category Rules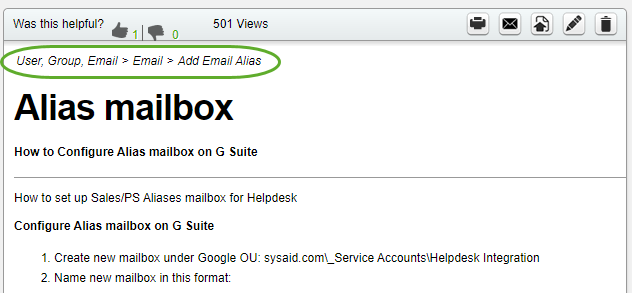 Enable Third Level Categories
By default, SysAid displays two levels of categories. Select this option to enable a third level of categories.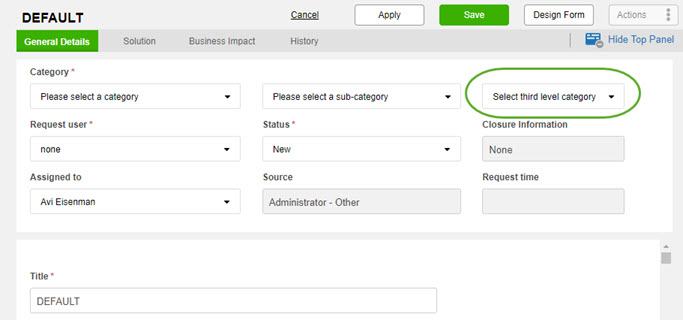 Display the automatic notifications in messages
This determines whether you will by default see automatic messages in service records. If you have this option disabled, you can still see automatic messages by clicking Show automatic messages above the messages field.
Messages field from a service record


Allow changing of SR type from Incidents to Requests and vice versa
This enables you to change a request to an Incident and Change an Incident to a Request. You can access this option in the list view, when you click More Actions, or within the Service Record, when you click

in the top-right corner.
---
Was this article helpful?
---
What's Next