Spaces Service Desk
19 Nov 2023

5 Minutes to read
Spaces Service Desk
Updated on 19 Nov 2023

5 Minutes to read
---
Share feedback
Thanks for sharing your feedback!
Reduce MTTR with a consolidated, intuitive Service Record and Queue
Streamline Service Record management with the Queue : a more efficient and organized Service Desk that introduces a cleaner, more comfortable UI for viewing and managing your workload.
Quickly grasp each Service Record's history and context with the Journey: an actionable audit log of all actions taken, communications, and more.
Service Record Page
This is where Admins spend most of their time resolving Service Records.
What's inside?
Header
An Overview of the main Service Record Fields: Title, ID, Priority, Categories, User & Group, Status.
You can complete numerous actions right from the Header:
Share the Service Record through a link
Click on any of the Header items
Service Record Form
Fully customizable form for submitting Service Records, configured using the Template Designer, ensures that forms are continually auto-saved for maximum convenience and confidence in preserving edits.
Journey
Actionable audit log of all activities and events in the Service Record, both automated and manual.
The Journey is one of the most monumental features in Spaces – presenting the user with a go-to interface for quickly grasping the history and context of an issue – to smoothly operate the resolution activities.
The Journey
The Admin's new center of work with an intuitive, flexible layout that captures and logs all Service Record activity and events.
Admins can quickly grasp the history and context of an issue and take on-the-spot Resolution actions.
The Journey can be viewed in five modes, letting Admins fine tune the type of Service Record activity and content they want to view.
Audit Log
Captures and documents every Service Record field change, communication, and update.
Messages
Internal and external correspondence (incoming and outgoing emails) relating to the Service Record .
Notes
Written and read by Admins and Request Users to log Service Record activity and leave comments in the Journey (Internal by default, but can be set to external).
Attachments
Uploaded files added to a Service Record, either generally or in context (Contextual Attachments) using a Rich Text Editor.
Solution/Resolution
Logged Solution and Resolution stages of the Service Record closure process.
Service Record Lock during Edit Mode
Service Records are locked when being edited by an Admin, but can be viewed by multiple Admins at once.
The Queue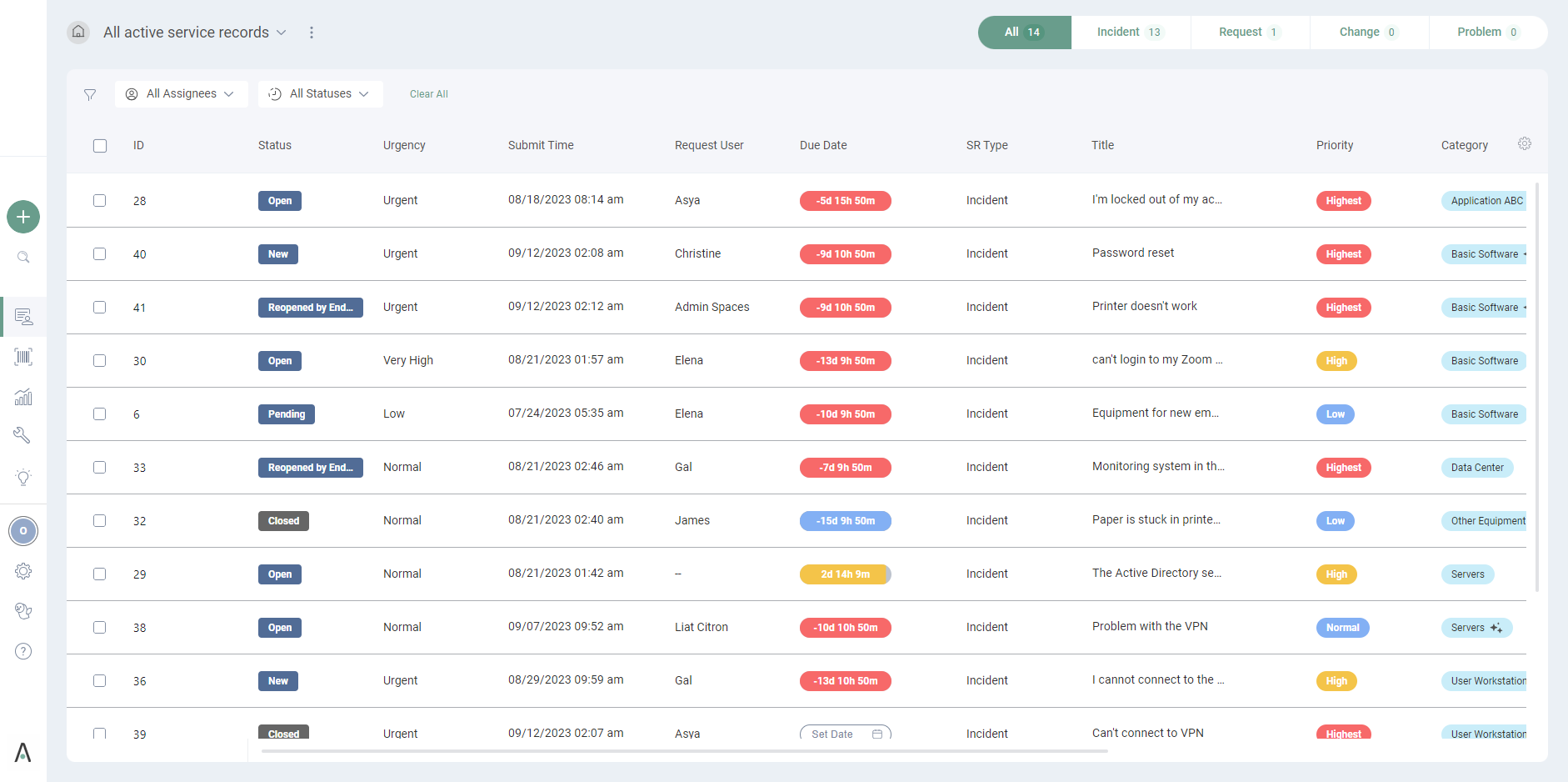 The Service Desk's brand new, dynamic user interface, designed to help administrators view and manage Service Records comfortably and efficiently.
The Queue includes a Header, Filter Bar, and Queue Grid, which are used to organize and filter Service Record information and quick administrative tasks.
Queue Views
A user-configured Queue (both default landing page and multiple Views) that appears each time the Service Desk is opened.
Sort and Filter
All Queue Columns can be filtered (including combined Filters) and sorted inside the Queue Grid.
Bulk Actions
Admins can multi select up to 50 Service Records and assign or delete them simultaneously.
Inline Edit
Admins can edit Service Record fields right from the Queue, without opening the individual Service Record page.
Queue Updates
Recurring Queue updates every 10 seconds.
Column Configuration
Configure your Queue Columns so that you see the Columns and Fields that are most important; in your preferred order and priority.
Search by Service Record
The Queue can be searched by Service Record ID.
Template Designer
A drag and drop WYSIWYG interface editor for creating Service Record templates. Users can create Sections with OOTB Fields whose visibility permissions and Field parameters they define and customize.
Settings
All of your account permissions from Core are already configured in Spaces, except for Templates.
Ticket Sources
Additional options for your Service Record submission methods, including right from the Service Desk and via the Chatbot.
Known Issues
Service Records
Service Record Creation
Create/Modify Service Records Permission are granted when checkbox is selected
Attachments
Attachment Uploads & Downloads:

Limited to 10 MB, not 50 MB as expected
Block ability to navigate between Journey Views
Prevented for Resolution Fields if already performed in Solution Field

Attachments tab doesn't display:

Attachments Counter
Attachments added during Solution or Resolution edits

Attachment deletions are:

Not applied to Notes
Allowed for different users when Service Records are in locked mode

Not visible:

Attachments in Description Field (SSP)
Rich Text Elements & Inline Images (Notes in SSP)
Attachment previews in the Journey tab --> Workaround: Preview file in the Attachments tab
Messages
"From" Field not populated when there are multiple email integrations
"Automatically add CC addresses to the CC field in the SR" Setting not applied to email replies
BCC field doesn't work
Notes
Date format and time zone not considered in Notifications
Special characters displayed incorrectly in SSP
Inline images added to the wrong place in Notes & Resolutions
Active Notes aren't sticky to bottom panel during scrolling
Resolution
Solution and Resolution Fields:

Can't be populated via email rules / escalation
Missing values don't prevent SR closure from Queue
Adding inline image to Resolution Field causes double scroll
Selecting and editing Solution Field's text in Resolution Card closes it and disables further edits
Solution Field values in Notification texts lack line breaks

Reopening Service Records

Closure disabled for SRs of several statuses
Users are directed to edit existing Resolution Cards

Changes to Resolutions Cards discarded when "Resolve" button (Toolbar) is clicked during edits
Sharing Solution & Resolution

When shared with Request User, Notifications display both fields for Admins, but only display Solution Field for End Users
When not shared with Request User, Notifications to Admins don't display Solution or Resolution Fields
Queue & Templates
General
"Max Support Level" and "Current Support Level" Fields don't display values
Service Records defined as 'Archived' may appear in the Queue
Service Records can't be archived manually
Service Records with a populated "Main Category" Field can't be saved (neither from Queue nor SR page) when Subcategory & Third Level Category Fields are left blank
Bulk Selection limited to 50 Service Records (not 1,000)
Choosing "Select all" from droplist selects up to 100 displayed items, but "Clear all" selects all database items
Filters
When more than 100 Users or Categories exist, filtering by "Request User" or "Categories" when searching for a User or Category prevents ability to select a value once an initial one has been selected
Inline Edit
Required Fields & Restricted Fields not indicated in the Queue
Can't update Descriptions (only through page refresh)
User Groups with "View Only" Field permissions receive the "No Permissions" popup after they've edited the Field (instead of before)
Automations
1 Routing Rule appears as multiple lines in the Journey
1 Escalation Rule appears as multiple lines in the Journey
Self-Service Portal
End users can't reopen closed Service Records (Admins can reopen SRs via the Admin Portal)
Settings
Editions
Basic Edition includes features that are ITSM only
System
Service Record ID Prefix can't be customized
Bugs may occur for unique configuration capabilities:

Priority Matrix
Due Date with Agreements
Operating Times with Agreements
Escalation Rules
Routing Rules
Notifications
Service Record links in Emails or Notifications require additional log in process
Incorrect Notifications sent when creating Service Records through Emails using an Email Rule that sets a template
'Me' Menu
Defined Signature not added to Messages
Out of Office feature malfunction
Users converted to Admins can't save data
Localization
Non-English languages don't display:

Categories
Values in Journey
Potential support bugs
Performance & Stability
System delays may occur when:
Creating a new Service Record
Applying Queue Filters
30 minutes of "out of focus" tab may cause an 'Out of Memory' browser error → Workaround: Refresh page
Log in
LDAP users experience log in delay when clicking "Log in" button
Incorrect login credentials turn Fields red instead of showing Generic Error
In certain scenarios, "Clear Cache" is required to resolve Log in issues
Other Modules
Cloud v. 23.4.40
| Bug # | | |
| --- | --- | --- |
| 765 | Service Records can be created successfully by Monitoring Notifications | Service Desk |
Cloud v. 23.3.60
| Bug # | Description | Module |
| --- | --- | --- |
| 32863 | Reset password via "Forgot Password" is no longer case sensitive | Password Services |
| 22244 | User name display method works as expected | Settings |
| 35813 | LDAP Integration can successfully authenticate users when "Domain" and "Domain display name" Fields don't have the same value | Integrations |


---
Was this article helpful?
---
What's Next