Attachments
11 Sep 2023

2 Minutes to read
Attachments
Updated on 11 Sep 2023

2 Minutes to read
---
Share feedback
Thanks for sharing your feedback!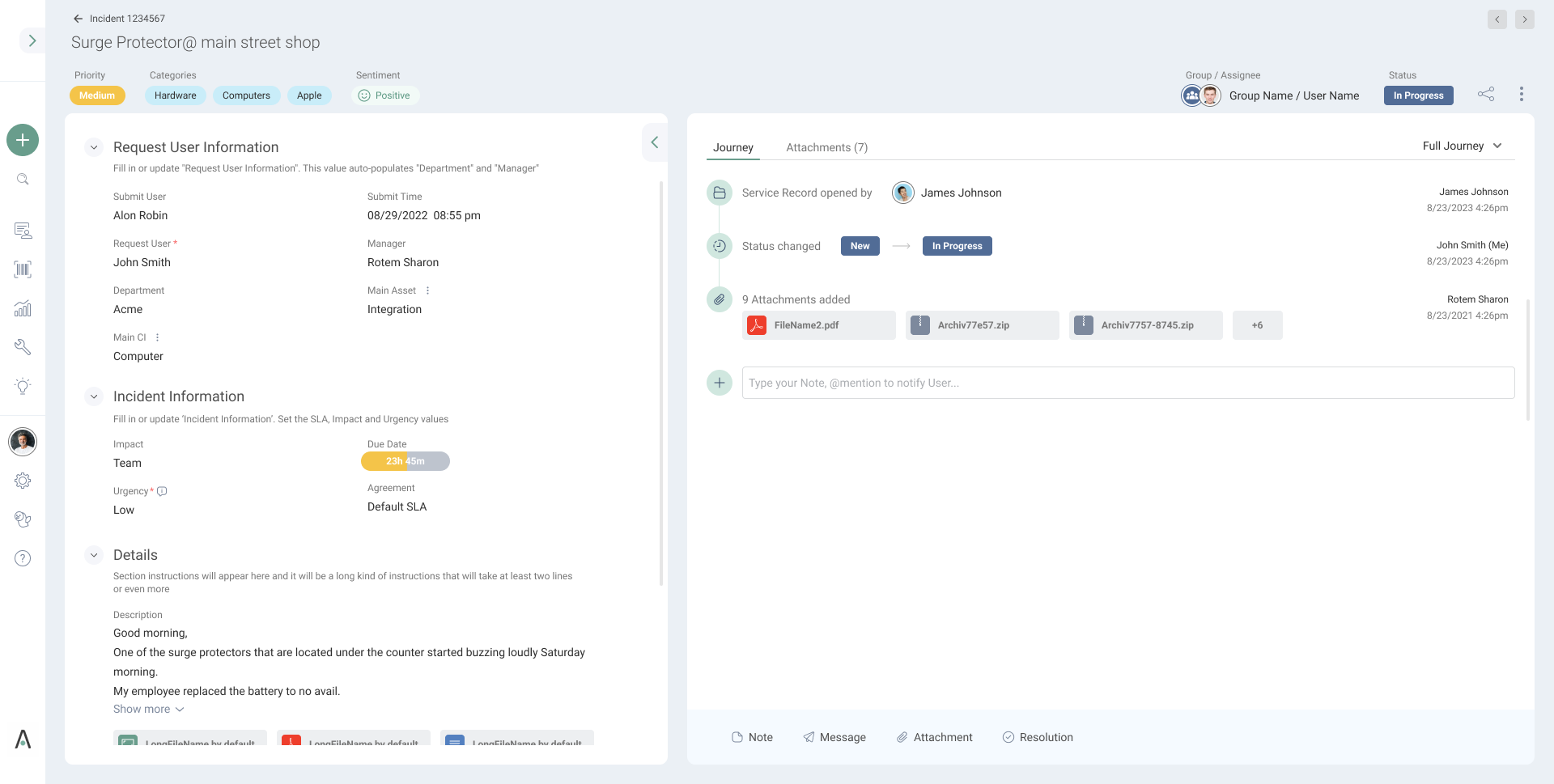 This document provides an overview of how to manage Service Record Attachments (Attachments) in SysAid, including the ability to:
Attachment Types


Attachments uploaded or emailed within the context of a Note, Message, or action executed using a Rich Text Editor
Attachments uploaded without a specific context
Attachment File Requirements
Attachments are limited to 50MB each
Attachments support most common file formats.
The following formats are blocked for security reasons:
JSP, JSPX, JSW, JSV, JSPF, WSS, DO, ACTION, EXE, MSI, PS1, HTML, HTM, PIF, APPLICATION, GADGET, MSP, COM, SCR, HTA, CPL, MSC, JAR, BAT, CMD, VB, VBS, VBE, JSE, WS, WSF, PS1XML, PS2, PS2XML, PSC1, PSC2, MSH, MSH1, MSH2, MSHXML, MSH1XML, MSH2XML, SCF, LNK, REG
Blocked file formats can be whitelisted to be supported for upload
To whitelist file formats according to your needs, contact your Customer Success Manager
View Attachments
General Attachments and Contextual Attachments are displayed in the Journey and Attachments tab, showing the following file details:
Thumbnail
File name
File type
Upload timestamp
Uploaded by
View Attachments in the Journey
Attachment-related Events in three of the Journey's Modes:


View Attachments in the Attachments tab
The Attachments tab displays all Service Record Attachments in a gallery view.

You can sort, filter, and search the Attachments tab by the following criteria:




Sort by:

Upload Time (default)
File Name
File Type




Filter by:

File Type (Images, PDF, Text, XLS)
Upload Time (Today, Yesterday, Last Week, Last Month)


Search by:
Note
File Types can be filtered by Images, PDF, Text, and XLS
Upload Times can be filtered by "Today", "Yesterday", "Last Week", "Last Month"


Add Attachments
You can add Attachments to a Service Record from various locations:
Attachments tab
Toolbar
Any Rich Text Editor (i.e. Notes, Messages, Descriptions, Solutions, Resolutions, etc.)


Note
Attachments uploaded to a Note or Message via drag and drop are added as inline images
To add Attachments through direct file upload, do one of the following:
Click on the [show small version of square with button] in the gallery and select the desired file from your File Manager
From the Toolbar or Rich Text Editor
Click on [show icon] and select the desired file from your File Manager.
During the Attachment Upload Process
Service Records are "Locked" to Read Only mode for other users while the Attachment upload process takes place.
To avoid unintentionally aborting the upload process, wait to receive the "Upload complete" notification before navigating away from the page.
Add Attachments through the Self-Service Portal
You can add Attachments from the Self-Service Portal by opening the Service Record and uploading the file through drag and drop or by uploading the file directly through the Select Attachments link.
Note
Service Records created via the
Hotkey
with images or videos added using F11 will be indicated as such in the Attachments tab
Delete Attachments
Admins with Edit permissions can delete files from the Service Record from various locations:
To delete Attachments from the Service Record, click the [trash can] icon in either the:
Attachments tab (file thumbnail)
Journey Event
Rich Text Editor
Note
Removing an Attachment referenced in multiple Service Record locations or in other Service Records doesn't delete it from other references
Attachments that are part of a Message can't be deleted once they've been sent
---
Was this article helpful?
---
What's Next