AI Case Summarization
27 Nov 2023

1 Minute to read
AI Case Summarization
Updated on 27 Nov 2023

1 Minute to read
---
Share feedback
Thanks for sharing your feedback!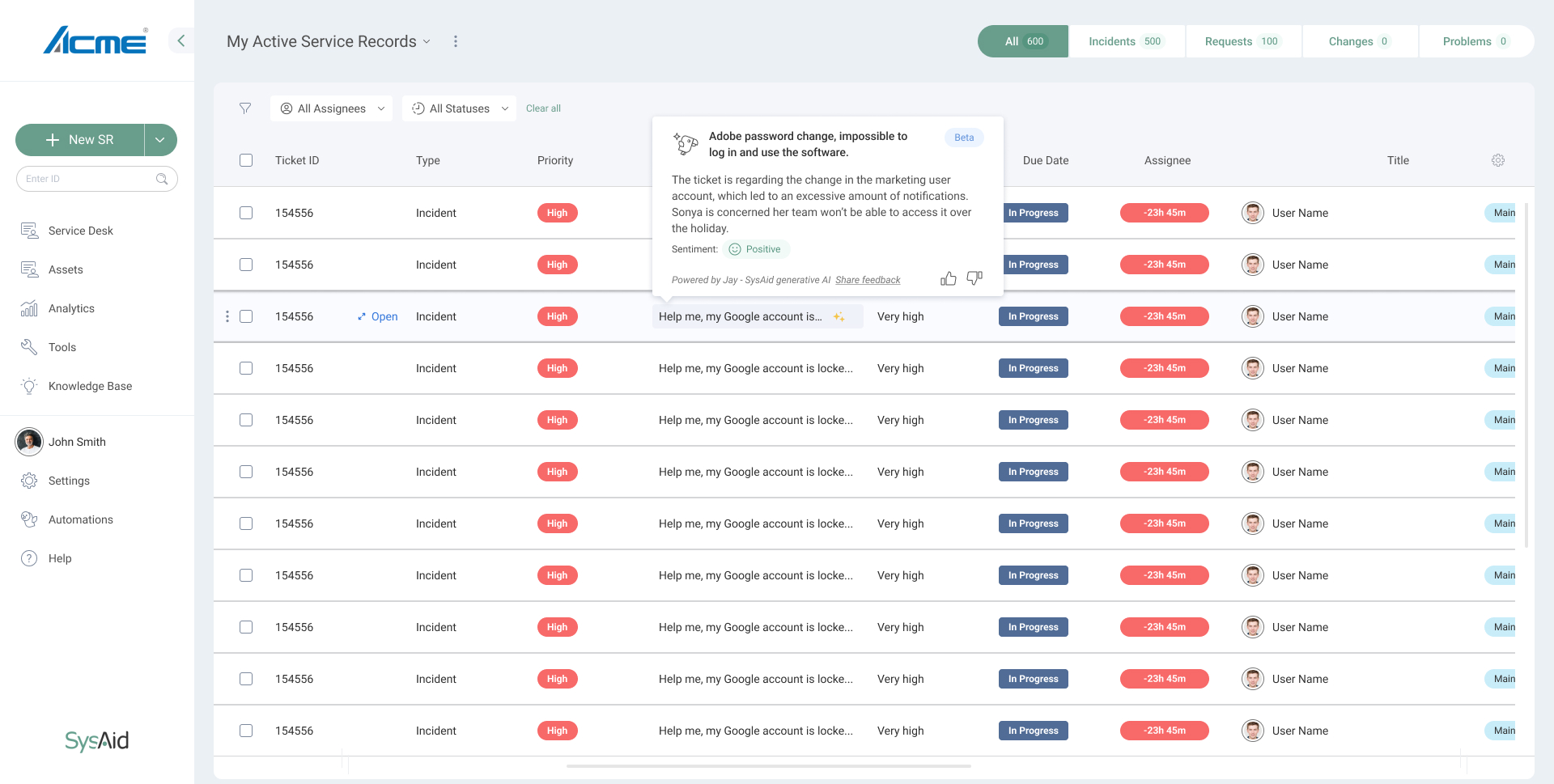 AI Case Summarization is a quick recap of lengthy content in each Service Record – directly from the Queue. These summaries allow Admins to eliminate the need to spend time opening each ticket and reading its Notes, Messages, Solutions, and Resolutions.
Note
The "Enable AI" checkbox is only clickable if the SysAid account has a valid license.
If the checkbox is unchecked, Generative AI features won't be accessible, including Service Record Summaries
Service Record Summaries are generated based on the content of the following fields:
Notes
Message(s)
Solution
Resolution
This document explains how to:
Enable AI Case Summarization
To enable AI Case Summarization, go to Admin Portal > General Settings, and select the "Enable AI" checkbox.
Read AI Case Summaries
You can read AI Case Summaries from inside:
Read an AI Case Summary from inside the Queue
To read a Service Record Summary from inside the Queue, hover over its ID or Title Fields; the AI-Generated summary will appear inside the popup.
You can also use the thumbs up/thumbs down buttons to rate the Service Record Summary's quality and effectiveness.
Read an AI Case Summary from inside a Service Record
To read an AI Case Summary from inside the Service Record, hover over its Title and the AI-Generated content inside the popup will appear.
---
Was this article helpful?
---
What's Next