Survey Introduction
07 Jun 2022

1 Minute to read
Survey Introduction
Updated on 07 Jun 2022

1 Minute to read
---
Share feedback
Thanks for sharing your feedback!
SysAid gives you many tools to objectively measure your helpdesk and IT performance. Due dates, timers, reports, and more allow you to keep a close eye on the level of service you provide to make sure that it always is of the highest standard. However, almost all methods of tracking performance are from the perspective of an administrator, which brings up the very important question: What do the end users think?
SysAid Survey
The SysAid survey provides you an easy-to-use tool for collecting feedback from your users and analyzing your performance through their eyes. Your response times might be good and your infrastructure well maintained, but are your users really satisfied? Now you can find out. Once you've enabled the survey (under Settings > Service Desk > General), any ticket you close will send a survey link to the associated end user so that they can give you feedback. The best part is that your users will feel you're listening to them.
Whenever you close a service record, your end user will receive an email notification that includes a link to the satisfaction survey:

When end users click the link, they reach your satisfaction survey form: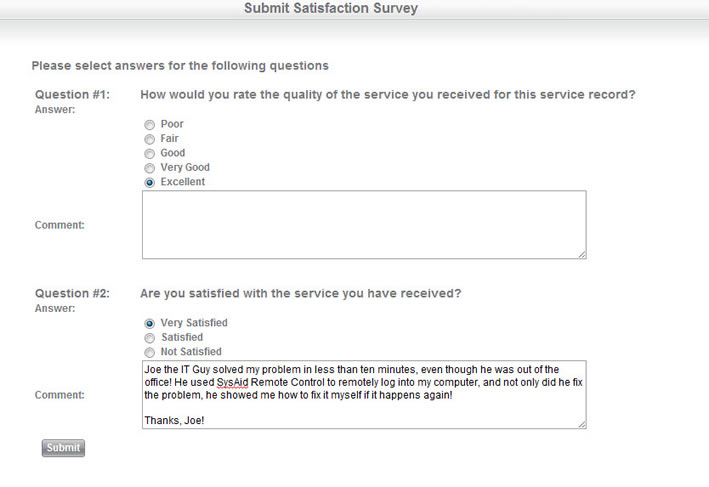 Survey results can be viewed under Analytics > Overview > Reports. The three "Satisfaction Level" reports under Help Desk > Service Quality show you survey results.
SysAid Basic edition allows you to include 1 question in your survey, and SysAid Full Edition allows you to add as many questions as you see fit. Go ahead and set up your survey now. You might be surprised by the feedback your users give you!
---
Was this article helpful?
---
What's Next