SysAid Online Help
06 Jun 2022

2 Minutes to read
SysAid Online Help
Updated on 06 Jun 2022

2 Minutes to read
---
Welcome to the SysAid Online Help!
At SysAid, we pride ourselves on offering you a product that is very easy to use. We know that many of our customers dive right into SysAid without ever consulting the documentation. However, as with any great product, there are many features that you might never find on your own due to the depth and breadth of the software.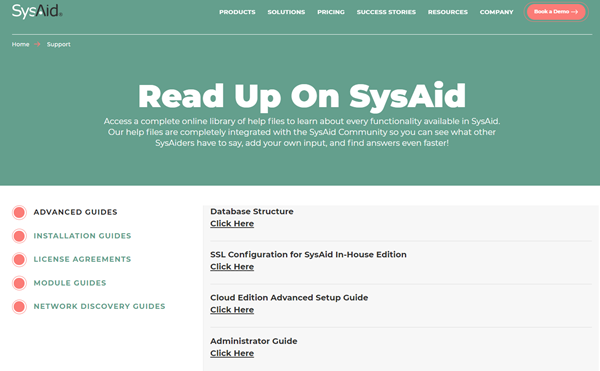 The SysAid online help files provide you with:
A description of the functionality of every page within the software
Step-by-step instructions for multi-step processes
Tips and suggestions for getting the most out of your SysAid
Each .jsp page within SysAid has a corresponding page in the help file, and you can open that page by clicking on your user name in the top right corner of any SysAid screen and choosing Help. Once inside the help files, you can navigate using the tree you see to the left, or by using the hyperlinks embedded within the help files.
Finding the information you need within the help files
Follow the five steps below and you will always be certain to find the information you seek.
Each page in SysAid is linked to a page within the help files, so it is usually very easy to find what you are looking for. Simply go to the page in SysAid where you have a question and click on your user name in the top right corner and choose Help. This will open the appropriate page in the help files.
If the help file you are looking at does not contain the answer to your question, there may be a hyperlink inside that will redirect you to the page that does. If there is, click on it.
Be sure to read the User Comments added at the bottom of each help file. It's possible that somebody has already asked your question and received an answer.
If there are no User Comments asking your question, you can post the question yourself. Simply click Post replyand add your question to the bottom of the appropriate page. Either a SysAid representative or a fellow SysAider will be sure to answer your question.
If you have combed through all the help files and still don't see what you're looking for, you can always contact our support team by email at helpdesk@sysaid.com or by chat through our website. They will give you a personalized response to your question, and they will follow up to make sure you are satisfied with the answer.
---
Was this article helpful?
---
What's Next