My Community Settings
06 Jun 2022

1 Minute to read
My Community Settings
Updated on 06 Jun 2022

1 Minute to read
---
The SysAid Community is a place for SysAiders to communicate with each other and with the SysAid team. It is a place for you to consult, suggest, request features, and share ideas and experiences.
This page provides you with a quick way to log into the SysAid Community from within the SysAid software. You can also choose whether or not to receive notifications if replies are added to your posts in the community.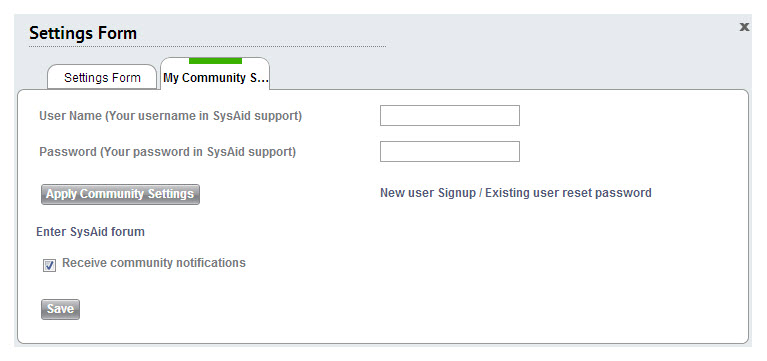 To log into the SysAid Community:
Enter your username for your SysAid Support account. Your username is typically the email address you use when you email us at SysAid.
Enter the password for the username you've chosen. You received the password in an email from SysAid when you first signed up for support.
Click Apply Community Settings. If your username and password are correct, SysAid shows you a popup confirming this. If they are not correct, SysAid will open the lost username/password page in the community so that you can receive a new password and log in.
Once your username and password are confirmed, click Enter SysAid forum to login to the SysAid community.
Forgot your password? Click New user Signup/Existing user reset password to receive a new password for your email address.
Receive community notifications
By default, any time somebody responds to a post in the community that you've added or replied to, you will receive an email. Uncheck this option if you would prefer not to receive these emails.
---
Was this article helpful?
---
What's Next