Set up the Chatbot
18 Sep 2023

3 Minutes to read
Set up the Chatbot
Updated on 18 Sep 2023

3 Minutes to read
---
Share feedback
Thanks for sharing your feedback!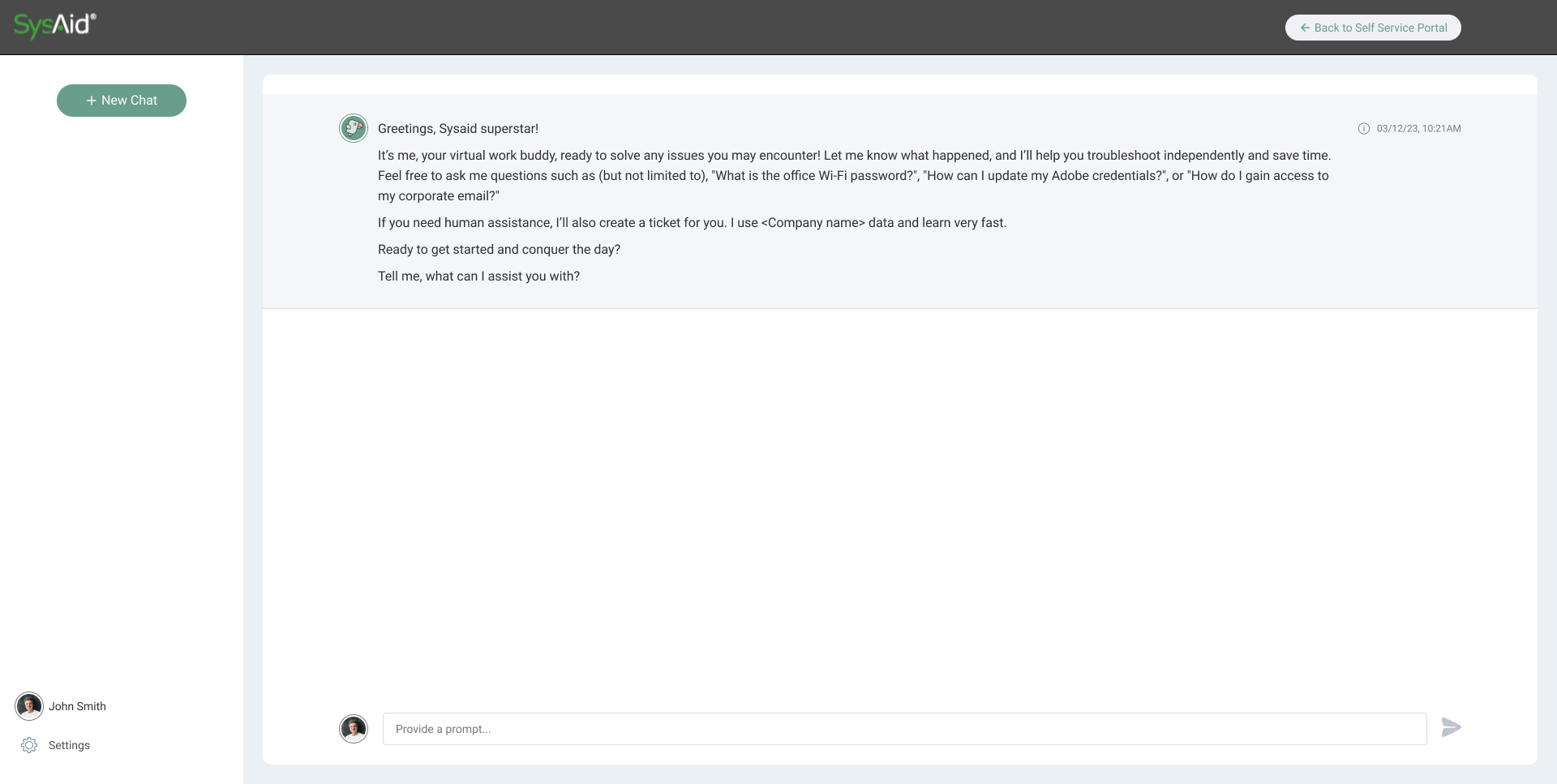 Note
The SysAid Chatbot feature is currently in Alpha
The Chatbot utilizes organizational data combined with Large Language Models (LLMs) to generate intelligent, solution-oriented responses to user queries in chat threads. These automated responses save the time that Admins would otherwise need to spend crafting articulate, relevant answers to user inquiries.
Note
The "Enable AI" checkbox is only clickable if the SysAid account has a valid license.
If the checkbox is unchecked, generative AI features won't be accessible
The Email Integration for the Chatbot will be available in the Beta release
This document provides a brief overview of how SysAdmins can:
Configure the Chatbot Service Catalog Tile
Access to the Chatbot will appear as a Service Catalog Item.
You can customize this Service Catalog Item on the page shown above and customize:
Enabled/Disabled
Description
Icon
Visibility

Specify which User Groups to include or exclude
Specify with companies to include or exclude
Specify whether guest users can access the Chatbot
To customize the Chatbot Service Catalog Item, go to
Service Desk > General Settings > Self-Service Portal > Service Catalog Items > Chatbot


Customize the Chatbot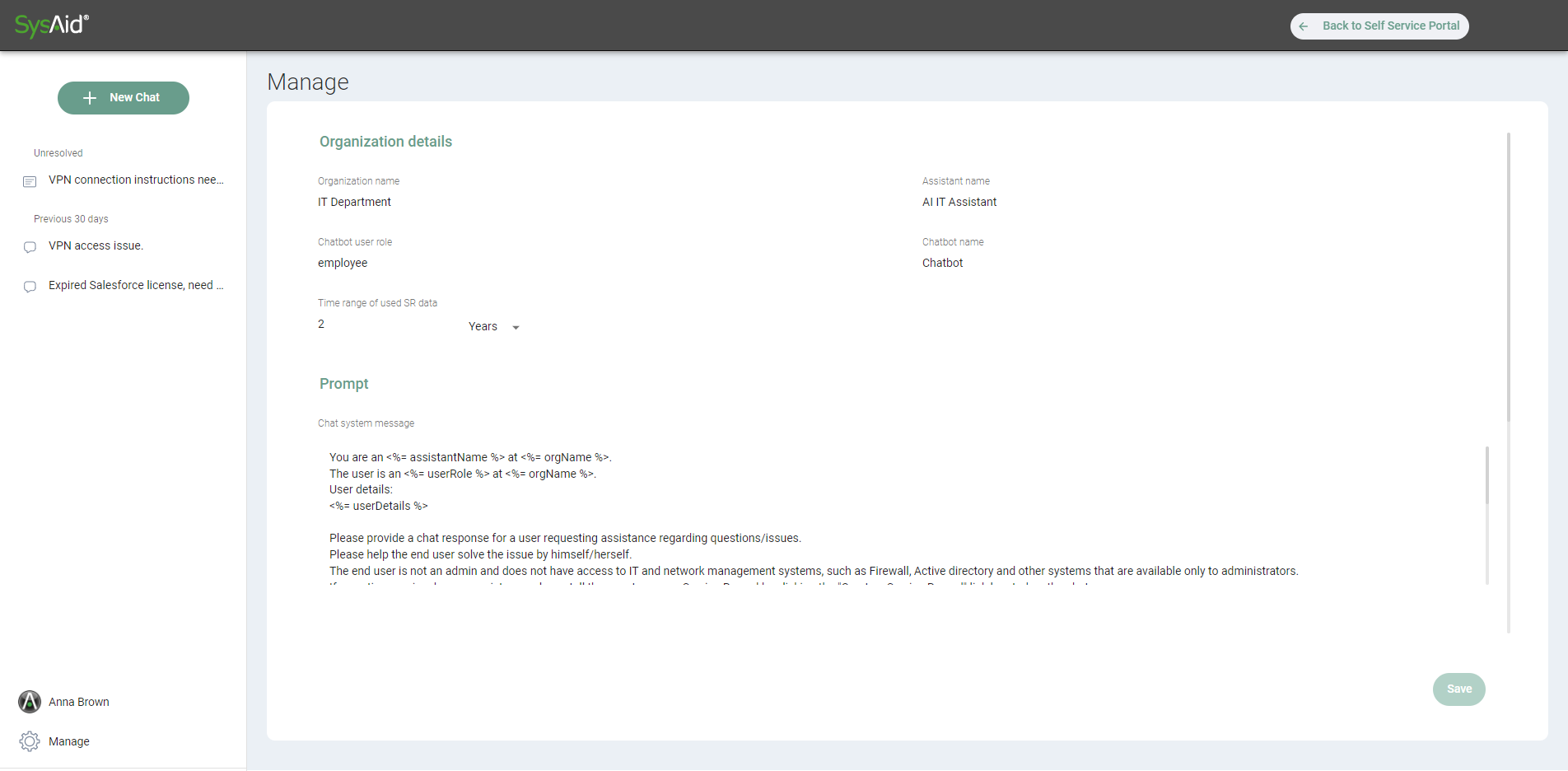 You can customize your Chatbot in the Manage section so that its 'look and feel' is aligned with your organization's brand and tone of voice.
To access these settings, click the [show icon] in the Chatbot's left panel.
This is where you customize your Chatbot's configurations, entering values for the following (editable) fields:
Organization Details

Chatbot Name: Appears in the Chatbot interface, SSP Header button, and Service Catalog Item
Organization Name: Displayed in various parts of the chatbot interface to help identify your organization



Assistant Name: Specifies the role of the assistant, such as 'Support Agent', 'Virtual Assistant', etc.; used to personalize the Chatbot's responses


Chatbot User Role: Defines the role of the user, such as 'employee', 'customer', etc.


Time range of used SR data: The time frame of data analyzed from Service Records and referenced by the Chatbot


Chat System Message (Prompt):

Allows you to modify the Assistant's 'personality' and provide specific instructions about its behavior throughout the conversation




Automatic Messages

Welcome Message (triggered when the Chatbot window first opens)
Starter Message (triggered after the end user clicks the [show button] button
Error Message
Chatbot Tips
Defining the user's role allows you to specify whether the user is an employee or a customer, so that the automated dialogue is most natural to the use case
Let your personal AI assistant and its 'Chatbot name' reflect your brand voice and the value proposition of your product or service
Editing the Chat System Message means you can modify the AI assistant's personality and provide guidelines for its behaviors/responses
If you make changes to your Chat System Message, you can reset its content to the default System Message provided by SysAid at any time – by clicking the [show reset button]
Chatbot Message Examples
Here are some examples to get you started with your SysAI Chatbot's Automatic Messages:

Welcome Message
Greetings, <%= orgName %> superstar!
It's me, your virtual work buddy, ready to solve any issues you may encounter! Let me know what happened, and I'll help you troubleshoot independently and save time.
Feel free to ask me questions such as (but not limited to),
"What is the office Wi-Fi password?", "How can I update my Adobe credentials?", or "How do I gain access to my corporate email?"
Starter Message
Hi <%= firstName %>, How can I support you today?
Error Message
Oops! It seems we've encountered an error. Please try again.
Configure Chatbot Data Sources
Your Chatbot can retrieve organization-specific solutions from your Service Records and Knowledge Base Articles that are published in the SSP.
You can configure the time frame for the Service Records being accessed by the Chatbot. The default time frame is two years, but you can tailor it to your desired time frame.
This Service Record data includes:
Messages sent from Admin to Request User
Notes from the Admin that are visible to the Request User
Solutions
Resolutions
Data from a closed Service Record is available within thirty minutes of its closure.
Coming soon
Future data configuration sources will include:
---
Was this article helpful?
---
What's Next